Interco For the Win - Four Wheeler Magazine's Top Truck Challenge.
From 1993 - 2015 over 49 of the 69 TTC competitors who made it to the TTC Winner's Podium, including 17 of the 23 overall champions,  got there on Interco Tires.  That's what we call total Top Truck Challenge domination.  Here's a list of the Grand Champions who used Interco Tires and what they used them on.
For more information or articles on Four-wheeler Magazine's Top Truck Challenge series, the other competitors and other awesome stories about the off-road universe visit www.FourWheeler.com.
The Streak
1994
Grand Champion: Anthony Fox, Bremerton, Washington
Vehicle: 1979 Jeep CJ-5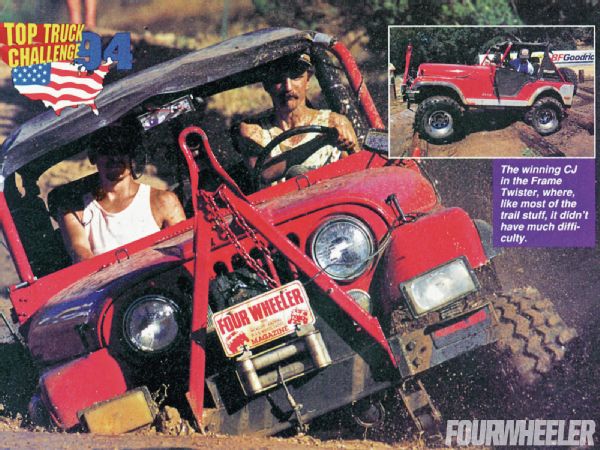 The Details
Engine: AMC 304ci V-8, Ford 2-bbl carburetor
Transmission: BorgWarner T-18
Transfer case: Dana 20
Axles (f/r): Dana 44, Detroit Locker/Dana 44, Detroit Locker
Suspension (f/r): Rancho 2½-in-lift leaf springs, Rancho shocks/Rancho 2½-in-lift leaf springs, Rancho shocks
Tires: 33-inch Super Swamper TSLs
1995
Grand Champion: Randy Ellis, Gilbert, Arizona
Vehicle: 1980 Jeep CJ-5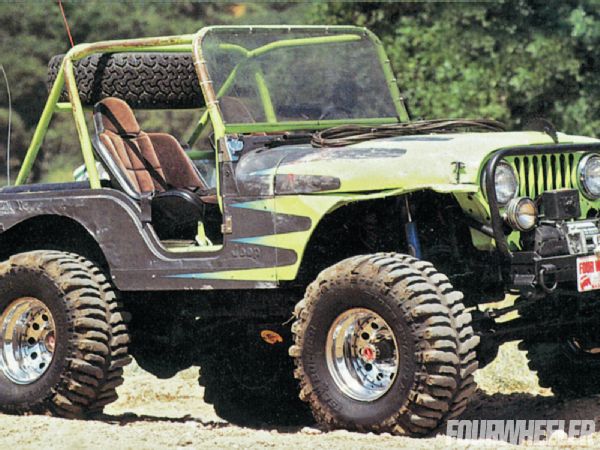 The Details
Engine: Chevy 377ci V-8, Holley Pro-Jection
Transmission: TH350
Transfer case: Dana 300
Axles (f/r): Dana 44, ARB Air Locker/Dana 60, ARB Air Locker
Suspension (f/r): Spring-over-axle, Rancho shocks/spring-over-axle, custom three-link, Rancho shocks 
Tires: 35-inch Super Swamper TSL Boggers
1996
Grand Champion: Shannon Campbell, Gilbert, Arizona
Vehicle: 1947 Willys CJ-2A replica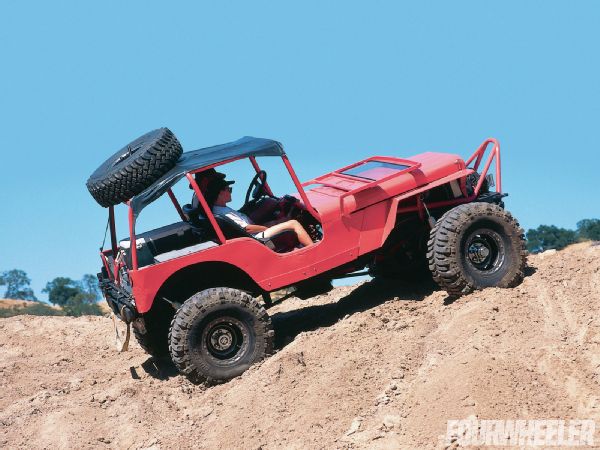 The Details
Engine: Chevy 400ci V-8, Holley Pro-Jection
Transmission: TH350 
Transfer case: Dana 300
Axles (f/r): GM 10-bolt, ARB Air Locker/Dana 60, spool
Suspension (f/r): Wrangler leaf springs, Doetsch Tech shocks/custom four-link
Tires: 35-inch Super Swamper TSL Boggers
1997 
Grand Champion: Geby Wager, Kelowna, British Columbia, Canada
Vehicle: 1986 Jeep CJ-7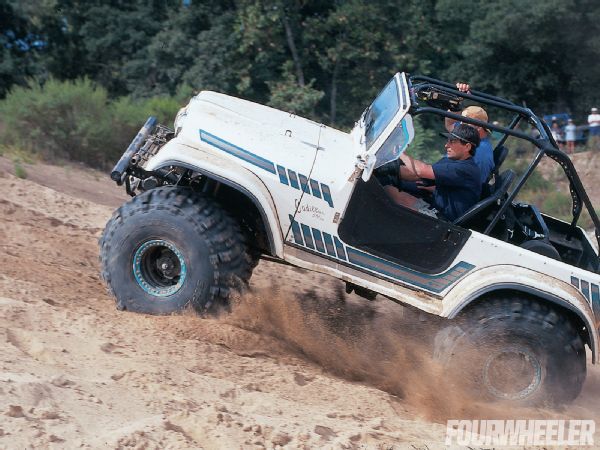 The Details
Engine: Cadillac 502ci V-8, Holley 800cfm carburetor
Transmission: Ford T-19
Transfer case: NP205
Axles (f/r): Modified 2½-ton Gama Goat, Powr-Lok/modified 2½-ton Gama Goat,
Suspension (f/r): Custom independent, air springs, Fox shocks/custom independent, air springs, Fox shocks 
Tires: 44-inch Super Swamper TSL Boggers
1998
Grand Champion: Heath Biggs, Fayetteville, Arkansas
Vehicle: Scorpion MK1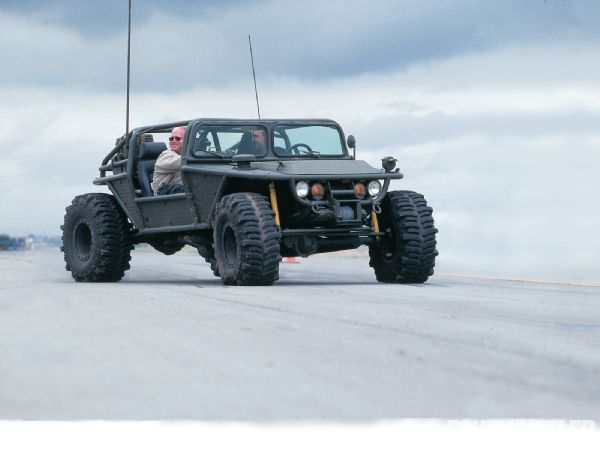 The Details
Engine: Chevy 350ci TBI V-8 
Transmission: 700-R4
Transfer case: Atlas II, 3.8:1
Axles (f/r): Dana 44, Detroit Locker/Dana 60 ARB Air Locker
Suspension (f/r): AES multilink, Firestone airbags, Bilstein remote-reservoir shocks/AES multilink, Firestone airbags, Bilstein remote-reservoir shocks
Tires: 35-inch Super Swamper TSL Boggers
1999
Grand Champion: Grady McLeod, Sacramento, California 
Vehicle: 1948 Willys CJ-2A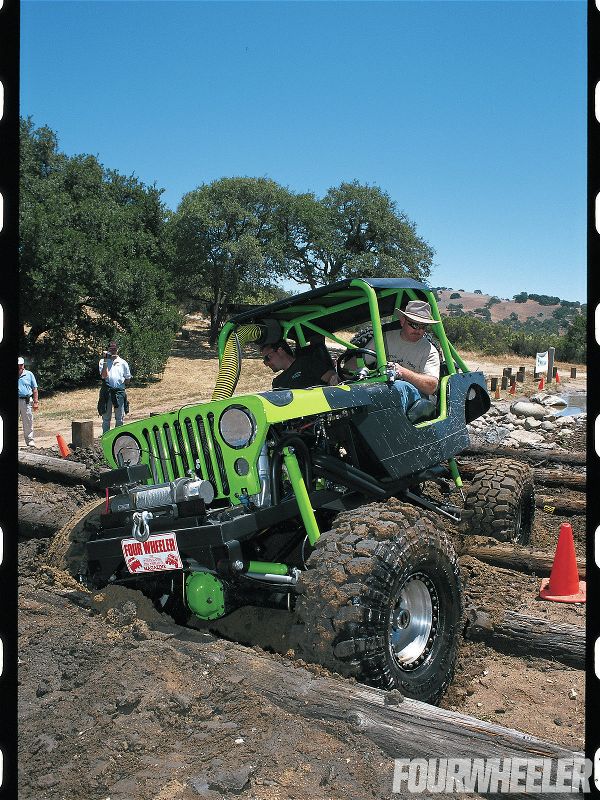 The Details
Engine: Chevy 350ci V-8, modified Quadrajet carburetor
Transmission: TH350
Transfer case: Toyota w/Marlin Crawler 4.7:1 gears
Axles (f/r): Dana 44, ARB Air Locker /Toyota V-6, ARB Air Locker
Suspension (f/r): Spring--over-axle w/Jeep Wagoneer springs, Rancho shocks/custom quarter-elliptic springs, four-link, Rancho shocks
Tires: 38.5-inch Super Swamper SXs
2000
Grand Champion: Sam Patton, Tulsa, Oklahoma
Vehicle: 1984 Jeep CJ-7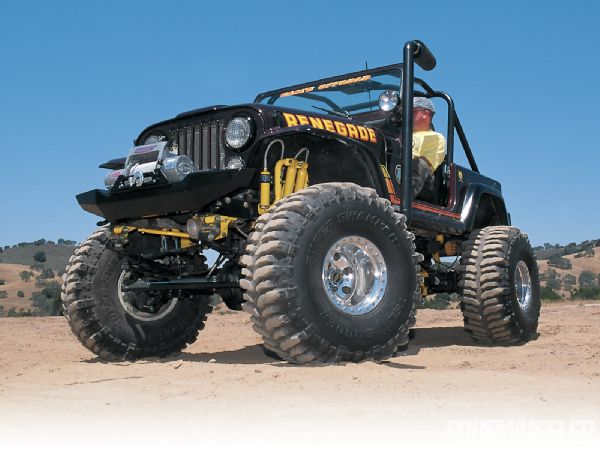 The Details
Engine: Chevy TPI 350ci V-8
Transmission: 700-R4
Transfer case: Atlas II 4.3:1
Axles (f/r): Dana 60, Detroit Locker/Dana 60, Detroit Locker
Suspension (f/r): 2½-in-lift Superlift leaf springs, Currie shackles, dual Old Man Emu shocks/2½-in-lift Superlift leaf springs, Currie shackles, Sam's Offroad traction bars, Old Man Emu shocks 
Tires: 39-inch Super Swamper TSL Boggers
2001
Grand Champion: Brian Waddell, Vancouver, Washington
Vehicle: 1972 Chevy Suburban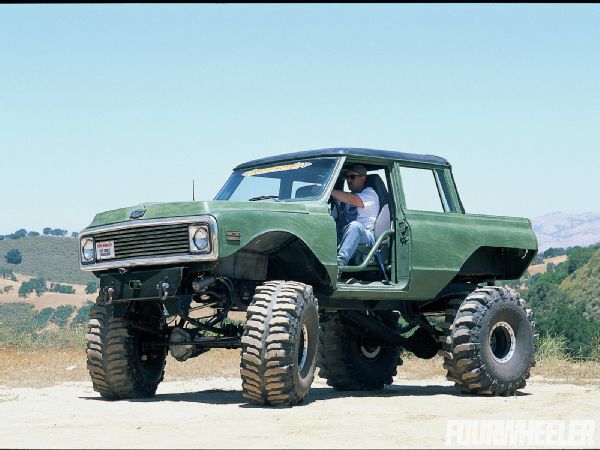 The Details
Engine: Chevy 454ci V-8, Holley Commander 950 EFI
Transmission: TH400
Transfer case: NP203/205 Doubler
Axles (f/r): Dana 60, vacuum-operated McNamara Locker/factory Eaton, Detroit No-Spin
Suspension (f/r): 8-in-lift Skyjacker leaf springs, Rancho shocks/6-in-lift Skyjacker leaf springs, shackle flip, Rancho shocks 
Tires: 44-in Super Swamper TSL Boggers
2002
Grand Champion: John Reynolds, La Crescenta, California
Vehicle: 1973 Ford Bronco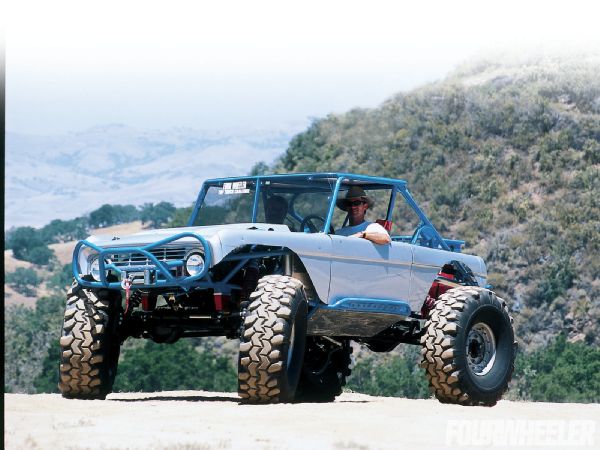 The Details
Engine: Ford 426ci V-8
Transmission: C6 
Transfer case: Atlas II
Axles (f/r): Strange center sections, custom axle tubes, Unimog portal ends, Detroit Locker/Strange center sections, custom axle tubes, Unimog portal ends, Detroit Locker
Suspension (f/r): Reverse four-link, King coilovers/reverse four-link, King coilovers 
Tires: 42x15.0-16.5 Super Swamper TSLs
2003
Grand Champion: Toby Harrell, San Angelo, Texas
Vehicle: 1975 Chevy Blazer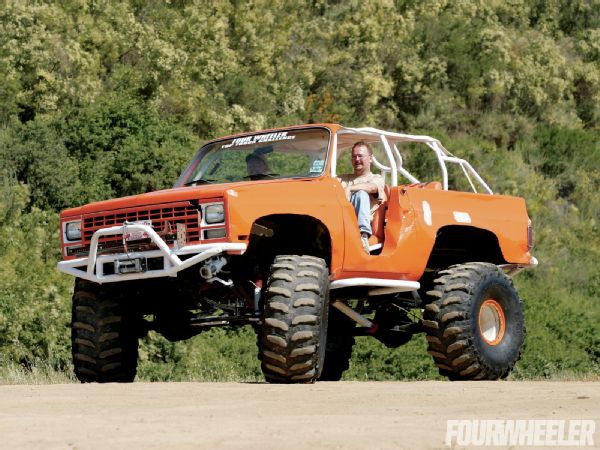 The Details
Engine: Chevy 466ci V-8, Holley Pro-Jection
Transmission: TH400
Transfer case: NP203/205 Doubler
Axles (f/r): Dana 60, Detroit Locker/GM 14-bolt, Detroit Locker
Suspension (f/r): Spring-over-axle, leaf springs, shocks/spring-over-axle, leaf springs, shocks 
Tires: 44-in Super Swamper TSL Boggers
2004
Grand Champion: Brad Austin, Mustang, Oklahoma
Vehicle: 1991 Jeep Wrangler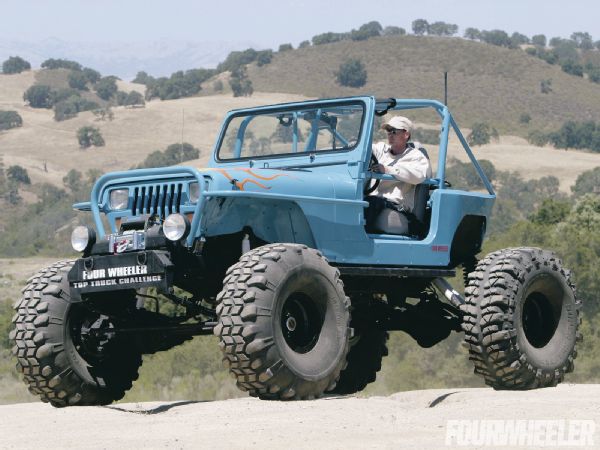 The Details
Engine: Chevy 454ci V-8, Holley EFI
Transmission: TH350
Transfer case: NP203/205 Doubler
Axles (f/r): Dana 60, Detroit Locker/Corporate 14-bolt, Detroit Locker
Suspension (f/r): Superlift 4-in-lift leaf springs, Pro Comp shocks/custom three-link, coil springs, quad Pro Comp shocks 
Tires: 44-in Super Swamper TSLs (front), 44-in Super Swamper TSL Boggers (rear)
2005
Grand Champion: Jerry Duffy, Twin Falls, Idaho
Vehicle: 1981 Jeep CJ-8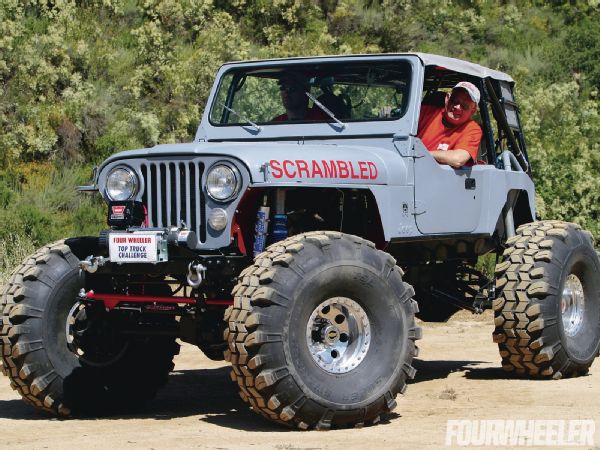 The Details
Engine: Chevy 502ci V-8, TPI
Transmission: 4L80-E 
Transfer case: Atlas II 3.8:1
Axles (f/r): Dana 60, ARB Air Locker/Dynatrac 60, ARB Air Locker 
Suspension (f/r): Triangulated three-link, King remote-reservoir coilovers with Eibach springs/triangulated four-link, Alcan elliptical springs, King remote-reservoir shocks 
Tires: 44-in Super Swamper TSLs
2007
Grand Champion: Matt Thorson, Santa Rosa, California
Vehicle: 2000 Jeep Wrangler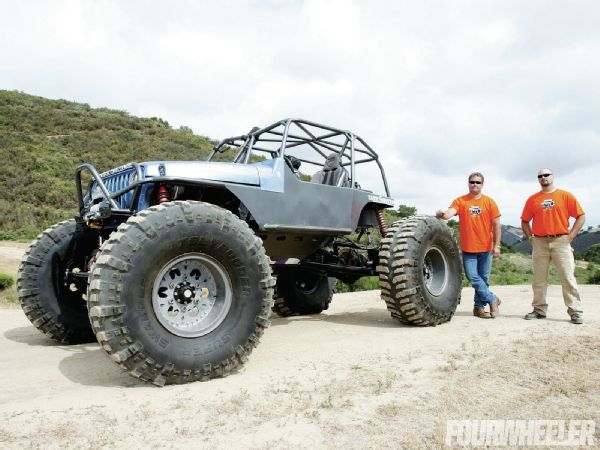 The Details
Engine: Chevy 502ci Ram Jet V-8
Transmission: SM465
Transfer case: NP203/205 Doubler
Axles (f/r): 2½-ton Rockwell, Ouverson spool/2½-ton Rockwell, Ouverson spool
Suspension (f/r): Four-link, Sway-A-Way coilovers/four-link, Sway-A-Way coilovers 
Tires: 54-in Super Swamper TSL Boggers
2008
Co-Grand Champion: Clayton Kraatz, Calgary, Alberta, Canada
Vehicle: 2006 Evolution Warthog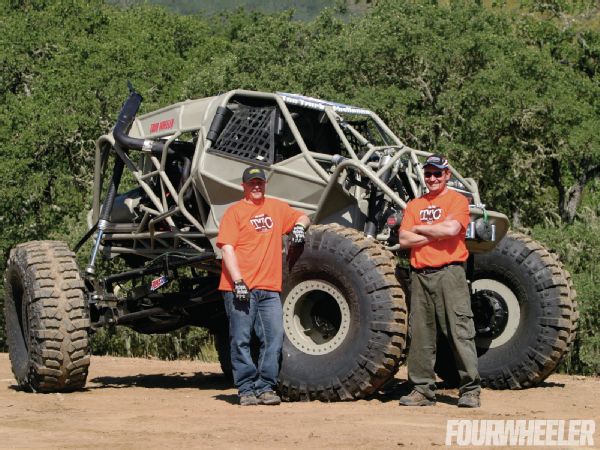 The Details
Engine: Chevy 467ci V-8, propane injection
Transmission: Powerglide 2-spd
Transfer case: STaK 3-spd
Axles (f/r): 7-ton ITL SD-70/7-ton ITL SD-50
Suspension (f/r): Four-link, Knight Stalker shocks/four-link, Knight Stalker shocks
Tires: 54-in Super Swamper TSL Boggers
2008
Co-Grand Champion: Jeremy Naeger, Bloomsdale, Missouri
Vehicle: 2003 Avalanche buggy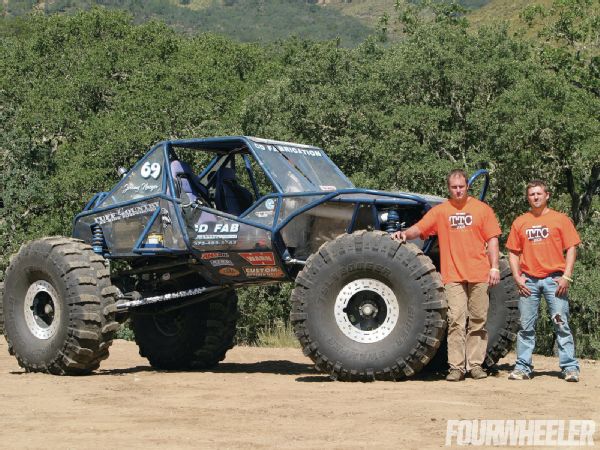 The Details
Engine: Chevy 350ci Ram Jet V-8 
Transmission: TH400
Transfer case: NP203/205 Doubler
Axles (f/r): 2½-ton Rockwell, Ouverson locker/2½-ton Rockwell, Ouverson locker
Suspension (f/r): Four-link, King coilovers/four-link, King coilovers 
Tires: 54-in Super Swamper TSL Boggers
2011
Truck Class Grand Champion: Steven Montpas, Roseburg, Oregon
Vehicle: 1949 Willys pickup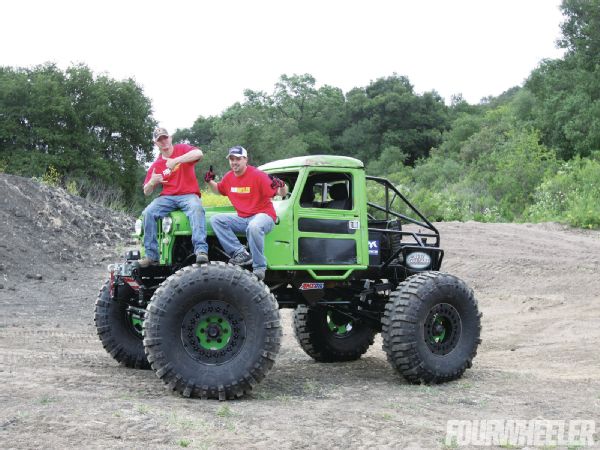 The Details
Engine: Chevy 350ci V-8, Holley Truck Avenger 670cfm carburetor
Transmission: SM465
Transfer case: NP205
Axles (f/r): 2½-ton Rockwell/2 ½-ton Rockwell 
Suspension (f/r): Custom double-leaf three-link, Tuff Country shocks/custom double-leaf four-link, Tuff Country shocks
Tires: 54-inch Super Swamper TSL Boggers
2015
Truck Class Grand Champion: Dan Osterhout, Edmonton, Alberta, Canada
Vehicle: 1970 GMC Jimmy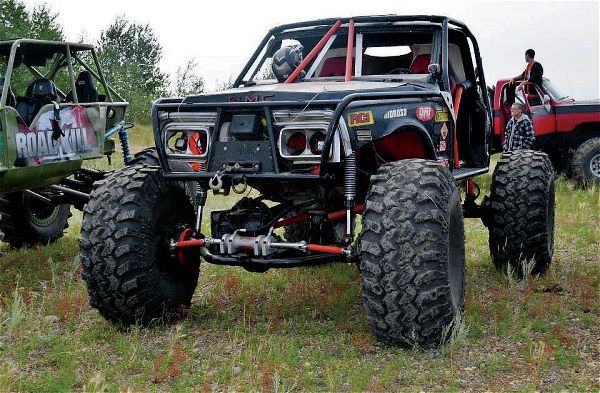 The Details
Engine: 427ci Chevy V-8 
Transmission: TH400
Transfer case: NP205
Axles, f/r: 2½-ton Rockwell/2½-ton Rockwell
Traction aids, f/r: Welded/welded
Ratio: 6.72:1
Suspension, f/r: Double-triangulated four-link, 16-in-travel ORI struts/custom boomerang cantilever with 16-in-travel Fox air shocks 
Tires: 49-in Interco Irok
Special features: FAST fuel injection, manual transmission valvebody, rear-steer axle, 8274 Warn winch
Driver experience: 7 years