The Blem List
Cosmetic Blemished Tires Available Direct!
What is a "Blem"? 
Tires that are reclassified as Blems are tires that were found at the final inspection stage to have some cosmetic or aesthetic imperfection.  This can be something as minor as a tire with white letters having a letter that has some black showing in the white letter.  "Cosmetic" refers to something that slightly affects appearance.  Tires that have a more serious flaw are scrapped and never sold.  Blem tires carry the same standard respective manufacturer's warranty.  The exception is that a Blem tire cannot be adjusted for the aesthetic condition that caused it to be reclassified as a Blem in the first place.
The Blem List is updated as tires are sold or received, and we do our best to keep this list up-to-date as possible. What is posted is what we currently have available.  If a tire you are looking for on the Blem List is not listed, then we do not have it available as a blem.
PLEASE NOTE:
Orders for blems may be placed by calling 800-299-8000.
Limited Style and Quantities Available
Payable By: Cashier's Check, Money Order or most major Credit Cards
ALL SALES ARE FINAL
All Sales Are FIRST COME, FIRST SERVE (including walk-ins)
PRICES DO NOT INCLUDE FREIGHT
We prefer to sell sets of tires when the amount available is 4 or more of a certain part number

If a tire you are looking for a particular tread pattern or size and it is not listed - then we do not have it available as a blem
Questions about blems should use the Contact Us Form with the term "Blem Question" used as a header.  Orders for blems may be placed by calling 800-299-8000.  Please make sure to have read the information on this page thoroughly before contacting Interco with questions about or to place orders for blems.
Light Truck Tires
*** PRICES DO NOT INCLUDE FREIGHT CHARGES***
IMAGE (for reference only)
SKU
BRAND
 SIZE
 QTY AVAILABLE
PRICE EACH 
 

X

B-125
BOGGER
33X12.50-16.5
1
$200.00

XCOB-40

COBALT
35X12.50R22
26
$250.00.

X

COB-60
COBALT
37X14.50R20
12
$305.00.
XIND-06
IROK ND
31X10.50R15
8

$115.00.

XIND-10

IROK ND

235/85R16
20
$115.00.
XIND-12R

IROK ND

245/75R16
10
$116.00.
XIND-14R
IROK ND
265/75R16
10
$119.50.
XIND-18
IROK ND
305/70R16
24
$138.00.
XIND-30R

IROK ND

33X12.50R17
8
$169.00.
XIND-32R

IROK ND

35X12.50R17
10
$172.00.
XM16-61R
M16
40X14.50R22
1
$300.00
XRXM-01R
TRXUS M/T
265/75R16
1
$75.00
 
XS-202
TSL SX
30X11.50-15
1
$95.00
XSAM-10
TSL SX
43X14.50-20
1
$310.00
XSAM-28
TSL BIAS
36X12.50-16.5
1
$195.00
XSAM-36
TSL BIAS
16/38.5-16
2
$200.00
XSAM-96
TSL BIAS
38X12.50-16.5
1
$200.00
XSNIP-30
SNIPER
42X14.50R24
8
$435.00.
 
XSSR-03
SSR
27X9.50R15
1
$75.00
XSSR-50
SSR
31X12.50R16
1
$100.00
XSSR-83
SSR
38X15.50R18
1
$250.00
XSTS-20 RWL
TRXUS A/T BIAS
15/39.5-20
2
$250.00
XSTS-32
TRXUS A/T BIAS
21/44-16
1
$400.00
XSX2-07
SUPER SWAMPER SXII
45X14.50-20
16
$449.00.
XT-317
THORNBIRD BL
35X14.50-15
1
$200.00
 
XVOR-54R
VORTRAC
35X12.50R22
4
$175.00.
*** PRICES DO NOT INCLUDE FREIGHT CHARGES***
| | | | | | |
| --- | --- | --- | --- | --- | --- |
| IMAGE (for reference only) | SKU | BRAND |  SIZE |  QTY AVAILABLE | PRICE EACH  |
| | XAQ-01 AQUA TORQUE | Aqua Torque | 25x12.00-9 | 8 | $85.00 |
| | XAQ-02 AQUA TORQUE | Aqua Torque | 28X10-12 | 8 | $89.00 |
| | XAQ-03 AQUA TORQUE | Aqua Torque | 30X10-12 | 4 | $97.00 |
| | XAQ-04 AQUA TORQUE | Aqua Torque | 28X10-14 | 4 | $87.00 |
| | XIBM-26 BLACK MAMBA | Black Mamba | 32.5X10-14 | 12 | $157.00 |
| | XVAM-41 VAMPIRE  | Super Swamper TSL / Vampire EDL | 30x9.00-14 | 4 | $84.00 |
| | XSPR-318 SNIPER | SNIPER ATV | 29.5X10-14 | 24 | $79.00 |
| | XSPR-330 SNIPER | Sniper ATV/UTV | 35x10-20 | 12 | $115.00 |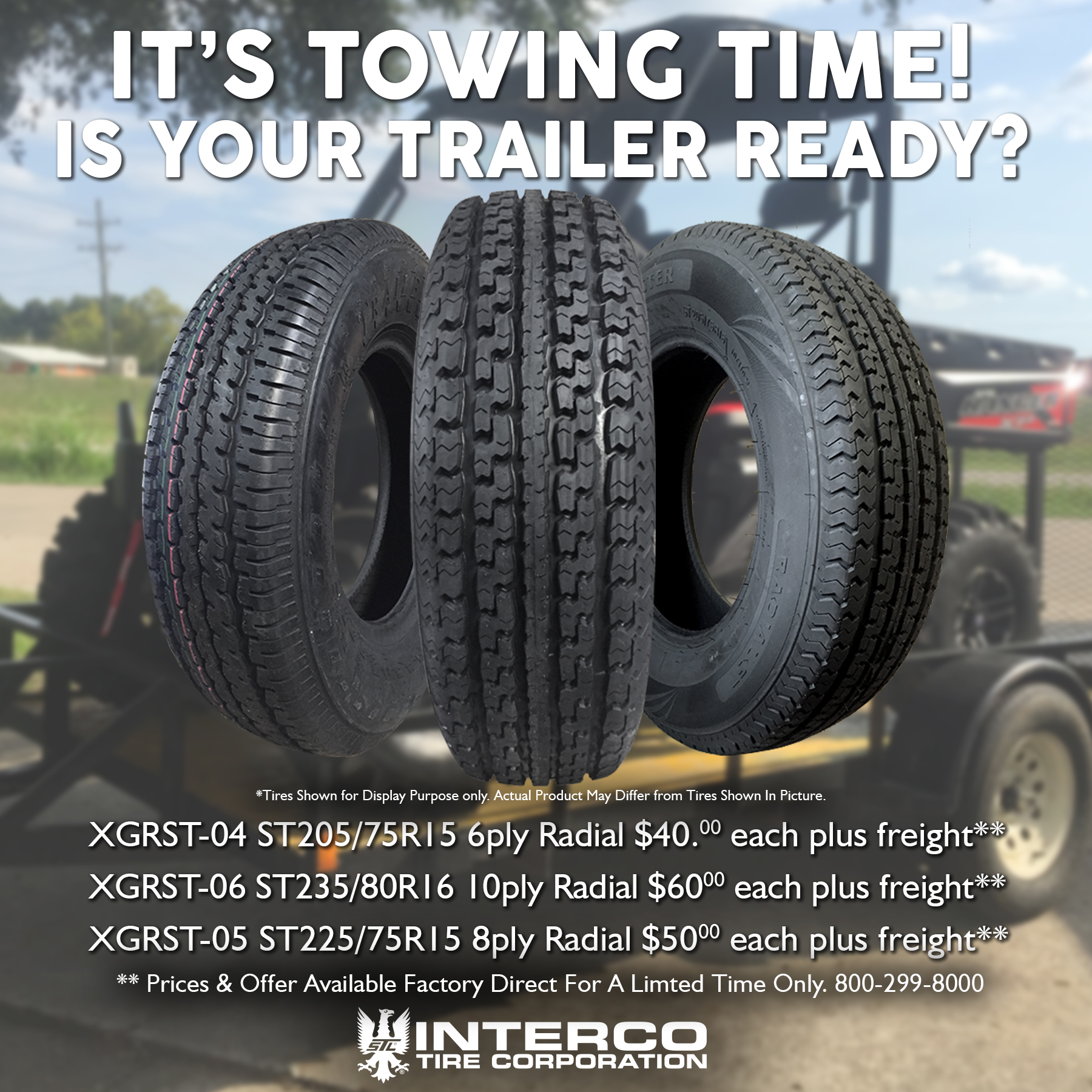 TRAILER TIRES
*** PRICES DO NOT INCLUDE FREIGHT CHARGES***
| | | | | | |
| --- | --- | --- | --- | --- | --- |
| IMAGE (for reference only)                    | SKU | DESCRIPTION |  SIZE |  QTY AVAILABLE | PRICE EACH  |
| AVAILABLE UPON REQUEST | XGRST-04 | 6Ply Radial Trailer Tire | ST205/75R15 | 12 |  $40.00 |
| AVAILABLE UPON REQUEST | XGRST-05 | 8Ply Radial Trailer Tire | ST225/75R15 | 10 |  $50.00 |
FARM & AG TIRES
*** PRICES DO NOT INCLUDE FREIGHT CHARGES***
| | | | | | |
| --- | --- | --- | --- | --- | --- |
| IMAGE (for reference only) | SKU | DESCRIPTION | SIZE | QTY AVAILABLE | PRICE EACH |