DT TESTED: INTERCO TIRES
TOP-SELLING LINEUP REVIEW
If you own a truck, you know there are a lot of truck tires on the market, and choosing the right tire can be very nerve-wracking. Depending on the make and size of the tire you could pay anywhere from $900 to $3,500 on just four tires. No matter how you look at it, that's a big investment to make on something without even testing them out first. This is where a basic informative review will come in handy. I'll be reviewing four of Interco Tire Corporation's top-selling tires. Reading this review should give you an idea of which could work best for you.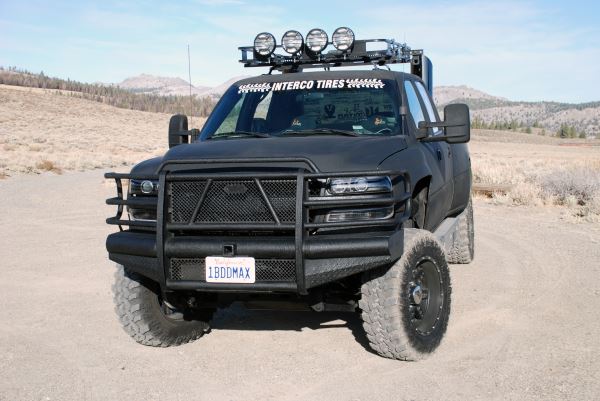 I have had the fortune to work with many great tire companies over the years and Interco Tire Corporation is by far one of my favorites. Interco offers a wide selection of specialty tires for light trucks, Jeeps and SUVs of any brand in the off-road/light-truck tire industry. Over the past eight years I have had the opportunity to test four of Interco's best-selling tires on the same truck in various road conditions. Each tire has a distinctive tread pattern and design, which makes them perfect for illustrating the different types of tires you can expect to find when looking at replacement aftermarket ones. This article will showcase these different tire designs and how they performed on wet/dry pavement, sand/mud, ice and snowy conditions and is aimed to help you purchase the tire best suited for you.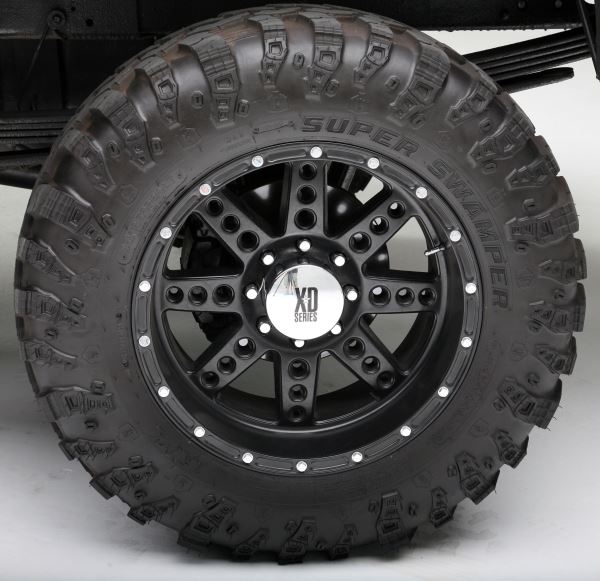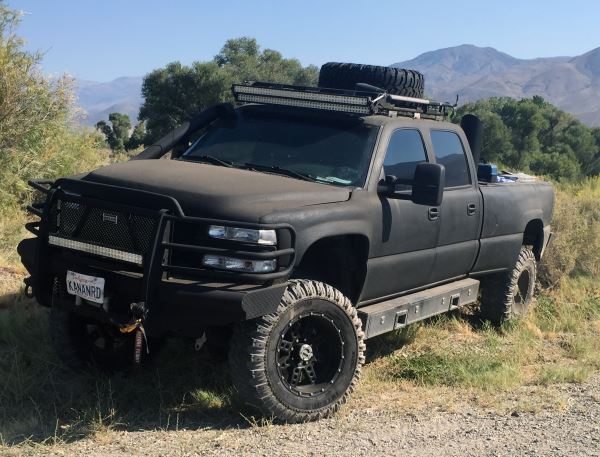 INTERCO IROK (RADIAL) MODEL: ROK-05, SIZE: 36X13.5R20LT 
My first introduction to the Interco tire lineup was the IROK. The notorious IROK is loud and proud, and the tire you want if you're looking to get noticed before you're even in the next zip code. IROKs are great for the person who doesn't mind a [little] noise for the trade-off of a tire that looks great and has unbelievable off-road characteristics. IROKs perform great in dirt, and they are dominant in the rocks and gravel, but when it comes to mud they rival the Super Swamper TSL, the tire that put Interco on the map!
IROKs come in both bias and radial versions. They feature a unique side-wall design, extra tough cord and cut-resistant compounds, and have a distinctive, directional tread pattern that incorporates the legendary patented Interco Three Stage Lug (TSL) design. Driving these in the mud is where they really belong, but for colder climates that get lots of rain, ice, snow, and slush, they are up to the task when it comes to keeping you straight on the road. Like most of the tires provided by Interco, the IROKs tested were 10-ply rated (load-range E) and worked great for towing 17,000-pound trailers daily. The only trade-off is driving off-road-designed tires on a three-quarter ton truck, they didn't last as long as the others I tested.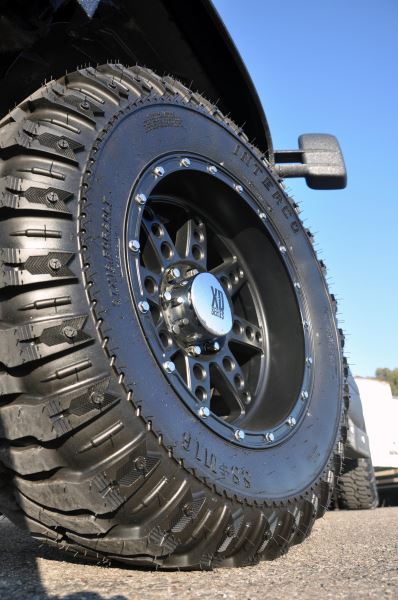 INTERCO SS-M16 MODEL: M16- 58R, SIZE: 37X13.50R20LT
When exploring automotive shows like SEMA or The Lone Star Throwdown, you'll most likely notice the Interco SS-M16 is a fan favorite that is used on all types of trucks, and on a lot of them. The M16's killer looks are only partially the reason. Interco has molded the shape of M16 bullet casings into the sidewall design—you can't get any more American than that! Speaking of which, 98 percent of Interco's 450-plus model numbers of LT tires, including all of the M16s, are made in the USA. The M16 is a radial tire and is classified as a mud-terrain, but it is great for all seasons and all driving conditions. Its design is simply ingenious. It's both an all-terrain and mud-terrain tire rolled into one, which Interco refers to as a "tweener" tire. I like the compound the M16 tire is made from, which is a little harder than some of their true mud-terrain tires. M16s aren't nearly as loud as the IROKs at highway speed, and they provide excellent traction in the rain. You may need to lower the tire pressure a tad, like most people in colder climates would do anyway, to get better traction for driving in ice and snow. This is a great tire for the weekend warrior who wants a smooth ride on the highway, but will also allow them to do some light mudding, or traveling down loose gravel found on country back roads. They're amazing as a hauling tire too. The stiff sidewalls are great when towing a heavy trailer. Although it's not recommended or endorsed by Interco, I found out that M16s will also keep you planted on the asphalt when doing hard launches in a twin-turbo diesel truck at your local drag strip.
I like the fact that you can also track tread wear easily with this tire, which is great, by the way. I've put 40 thousand miles on the set I tested before needing to change them out. This tire is a top contender and great all-round tire. I'd put them up against any tire out there that you may find on many three-quarter and one-ton diesels today.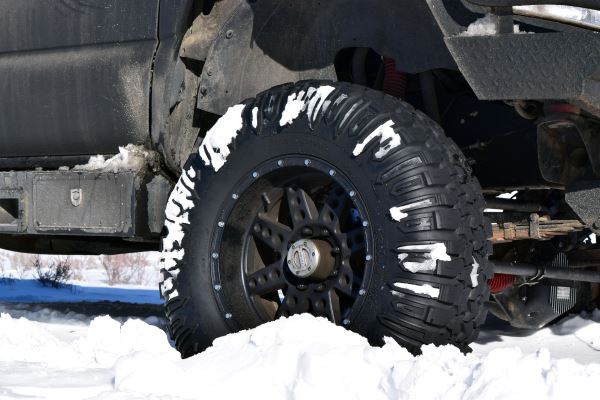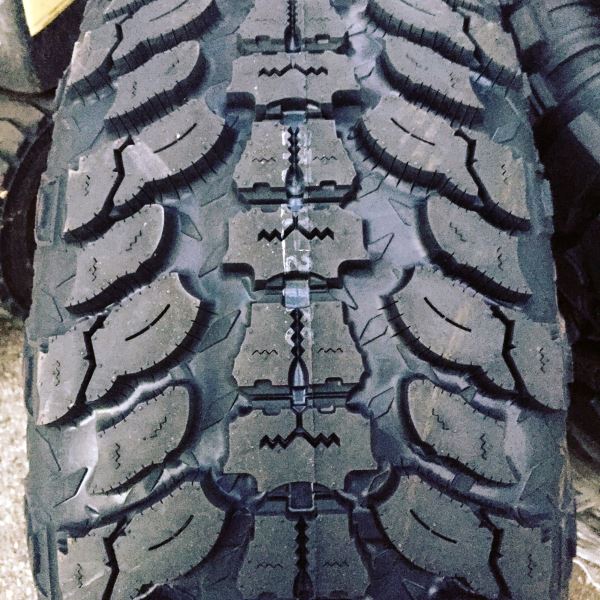 INTERCO TRXUS M/T MODEL: RXM-37R, SIZE: 38.5X14.5R20LT  
The TrXus M/T, radial mud-terrain tire is, in my opinion, Interco's answer to the need of those who want a smooth, super quiet ride M/T radial tire, so much so that you may just think you're driving on an A/T tire. Driving down the road you don't notice any annoying humming noises like you normal would with other M/T tires in dry weather. The Interco TrXus M/T is a great daily driver tire. In the rain the tire performs surprisingly well, with zero hydroplaning. This is due to the fact that TrXus M/T tires have more siping than any other M/T tire on the market. Interco claims the TrXus M/T is magical in the snow, and they aren't kidding. It's amazing how well the TrXus M/T drives in snowy and icy weather conditions. I tested the tires in Mammoth, Calif., and no chains were needed. For the most part, I was able to drive in the snow in two-wheel drive and there was more than ample grip with 65 psi in the tires.
For all your dirty pleasures, the TrXus M/T is a beast in the mud too. Its thick sidewall provides a great chip- and cut-resistant compound when blazing through a muddy trail. This 10-ply-rated load-range E tire proved to be great for daily driving and heavy towing with a 4,000-pound max load per tire. You won't be disappointed with these tires. The Interco TrXus M/T offers a distinctive sidewall design (which looks ultra-aggressive to Prius owners).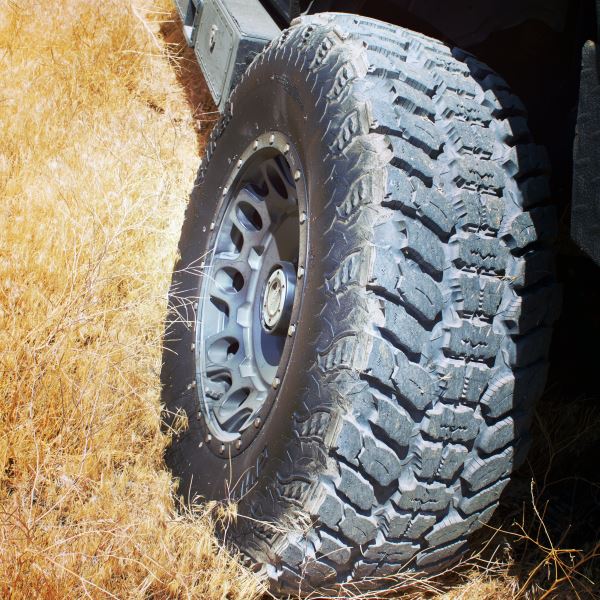 INTERCO SNIPER M/T, MODEL" SNIP-20, SIZE: 38X13.50R20
The Sniper M/T is Interco's newest design and next legendary tire. The Sniper M/T, like the M16, is actually a "tweener" type tire. Interco spent a lot of time developing this new tire, which is a perfect fusion of mud-terrain and all-terrain tire technology that was created to be an off-road tire with great street manners. Like the name implies, it's smooth and quiet just like a sniper. You won't even know that it's coming until it's already passed you by. This is achieved by a directional tread pattern with tightly-packed center tread blocks for improved on-road handling and noise dampening control. The Sniper M/T performs great under the roughest terrain, and loose gravel is no problem for this tire either.  The siped outer lugs provide excellent traction and there is no need for deflating when driving on iced-over or snowy roads. The aggressive sidewall provides great traction in deep snow and on muddy trails. Like most of Interco's tires, The Sniper M/T incorporates the company's patented three-stage lug design concept which creates self-cleaning voids and suction release. As an all-around seasonal tire with long-lasting durability and a mildly aggressive look, many people are going to gravitate towards this tire. These tires are designed for long distance stability and durability. With proper rotation, air pressure, and general tire maintenance I estimate that you can conservatively expect up to 40,000 miles out of this tire. 
TRUCK DETAILS
The information for this article was generated by normal driving conditions both on- and off-road, over a period of eight years. The vehicle used to test all tires mentioned was a 2002 Chevrolet Silverado crew cab long bed Duramax with a Dana 60 solid axle conversion. Without getting into too much detail, it has a lot of other add-ons that make it a heavy 9,960 pounds on the scale, so you should expect a lot better tread life than what my tests reflected, and the tread life I got was better than average for an aggressive lug truck tire. Like many diesel truck owners, I drive a lot. With over 245,000 miles placed on the truck, I've been through all types of terrain and weather conditions. All tires tested were set at the appropriate pressure (65 psi) for the load rating, many of which I never had to deflate when driving in off-road conditions.
Many people have different opinions on what features they need. Whether you base your decision on form over function, the climate you live in or driving conditions you encounter, or the terrain you plan to traverse, there's a tire for every owner. 
It's up to you, the reader, to use the information I provided to choose what tire is best for you. I'm sharing an honest review on what to expect from tires provided from Interco Tire Company. I've used other company's tires in the past, but never again. You can't beat their customer service and when you call you talk to a person, not a machine. That's not very common nowadays. I've provided them with feedback over the years on the latest trends and what owners are looking for in a tire for their truck. They spend a good amount of time designing and developing every tire they offer. Interco is known as the "King of Off-Road tires" due in part to their legendary bias tires such as the Super Swamper TSL and the Bogger, but once people start taking a look at its radial lineup they will soon become known as the "King of the Road" too. The bottom line is when you're looking to get new shoes for your ride you should give Interco a shot. I did, and you'll be happy you did too. 
KMC XD SERIES WHEELS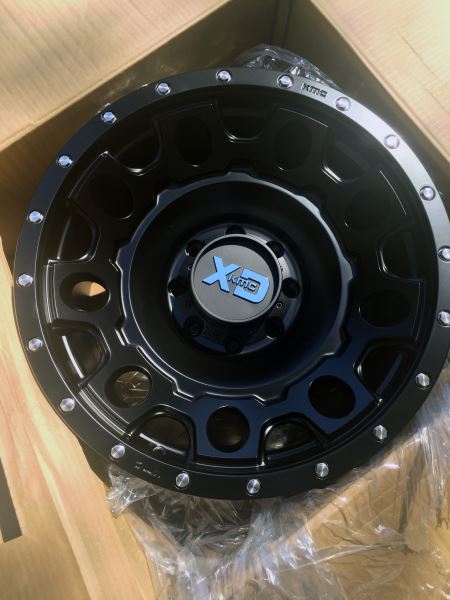 With the new kid on the block, the 20-inch KMC's XD129 aka "HOLESHOT" wheels were used for the testing because they are cast-aluminum and are very rugged. Plus, they looked amazing paired with Interco's new Sniper tires. What is most attractive-looking about these wheels, aside from looking like military H1 Hummer rims, is that they're so easy to clean. I can see why so many people are gearing up with these new rims. The two go hand-in-hand to deliver a very military-style look. KMC XD DIESEL wheels look great paired with any off-road tire and were used for testing the IROKs, M16s and TrXus M/Ts.  I have had no complaints after running these wheels for 12 years. 
Product Score 92
Application 19/20
Function 47/50
Durability 9/10
Design 10/10
Price 7/10
800-299-8000