Balancing Pads
Balancing Pads
Some tire factories will utilize balancing dough or balancing pads (also called balancing patches) that are placed on the inside wall of some larger tires to help "pre-balance" them before they are released for use.   Balancing dough is a weighed out lump of "tire dough", and balancing pads are precisely weighted pads with their weight stamped/printed on the face of the pad.  Balancing pads are sometimes called balancing patches because they resemble a repair patch or boot.  If you happened to find a balancing pad inside of your tire you will be able to distinguish it from a repair patch because the weight of the pad (in ounces or grams) will be printed on the face of the pad. See image below for an example of a balance pad.  When used by the factory balance pads are permeantly bonded to the inside wall of the tire.
When tires are fitted to rims at the point of sale, they are placed on a balancing machine, and correction weights are applied to counteract the combined effect of the tire and wheel unbalance.  At times a tire shop may use balance pads inside the tire to help them off-set the amount of weights needed on the rim allowing them to more accurately balance a larger tire/rim combo.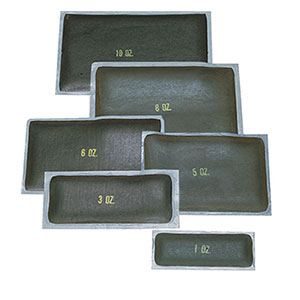 Balance Pads and Dough may be sourced through specialty tire supply companies, such as Meyer's Tire Supply.  A quick Google search may also yeild more information on Balance Pads or Balance Patches and where they can be sourced.